Como mejorar la fuerza de los puños
How to improve punching power

Nota breve | Quick note
Recuerden, NO HAY trucos mágicos, esto se trata de entrenar,  entrenar y ENTRENAR.
Remember, there are NO magic tricks, this is about training, training and TRAINING.
** TIPS **
. FUERZA DE LAS PIERNAS
Incrementa la fuerza de tus piernas: Sentadillas, estocadas, burpees, saltos, carreras, trotes, todo lo que ayude a aumentar la fuerza general de tus piernas, cooperará con la fuerza de tu pegada. Recuerda que el poder real de cualquier boxeador/peleador, está en sus pies y como se desplaza.
. LEGS STRENGHT
Increase the strenght of your legs: Squats, lunges, burpees, jumps, sprints, run, whatever helps to increase the general strenght of your legs, will cooperate with the strenght of your strike. Remember, the real power of a boxer/fighter, it's on your feet and the how he/she moves.
. ROTACIÓN/ABDOMEN
Cualquier ejercicio de rotación de cintura va a sumar fuerza a los golpes. Si solo se golpea con la fuerza de un brazo, es una fuerza limitada, en cambio, si el torso completo gira, suma la fuerza y el peso de la mitad del cuerpo al golpe. Rotaciones de cintura, abdominales cruzadas, russian twist, todo ayuda.
. ROTATION/CORE
Whatever exercise of core rotation will add strenght to the punches. If you only use the muscles of your arm, that's a limited strenght, but if you use the whole waist to rotate, you add the weight and strenght of the half of your body to the strike. Waist rotations, crossed sit ups, russian twists, everything helps.
. RELAJA Y TENSA
La clave de no agotar tus energías de un golpe potente es la capacidad de pasar de relajado a tensionado. Si te mantienes relajado y al momento de golpear tensas todos los músculos involucrados (y no más) para luego relajarlos, no solo tendrás más velocidad, sino también más potencia de golpe (mientras la técnica sea buena)
. RELAX AND TENSE
The key to avoid draining your energy on a powerful strike is the capacity to switch from relaxed to tense. If you keep yourself relaxed at all times and only tense all of the involved muscles (and not more) for then relaxing them again, you'll have not just speed, but also more punching power.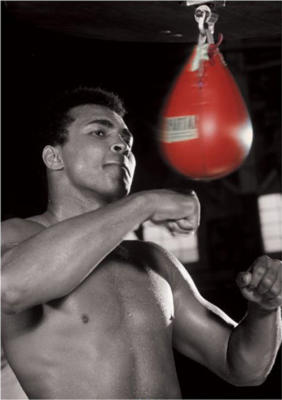 . CORTO Y PRECISO
Controlar el recorrido de los movimientos, controlar los ángulos, controlar el timing y controlar la precisión de los movimientos va a ser mucho más efectivo que lanzar mil golpes con máxima potencia. Claro, este punto en particular requiere de mucho tiempo y experiencia. Pero a lo que apuntamos con este punto en particular es en practicar diferentes ángulos cuando se practica en la bolsa, cuando se hace sparring y cuando se hace boxeo de sombra o focos, concentrarse en hacer combinaciones cortas, precisas y con ángulos diferentes a los clásicos o "básicos"
. SHORT AND PRECISE
Controlling the trajectory of the moves, the angles, the timing and the accuracy of all movements it's much more effective than dropping a thousand punches with full power. Of course, this specific point requires of much more experience and time. But what we mean here is to work on the different angles when on the bag, when sparring, when shadowboxing or mit striking, using different angles, short and precise combinations than the clasic ones.
. PRACTICAR, PRACTICAR, PRACTICAR
Lo dicho. No hay otro secreto. Hay que practicar con todos los elementos y compañeros, ya que el timing y la precisión requieren de reflejos, que se desarrollan en el trabajo con otros. Pero mientras tanto, practiquen no desperdiciar su energía, concentrar los golpes en combinaciones claras y con la guardia/cabeza bien ubicada. Practiquen, practiquen y practiquen. No hay otra manera.
. PRACTICE, PRACTICE, PRACTICE
Just said. There's no other secret. You have to practice with every element and partner you have around, as timing and accuracy require of reflects, which are developed working with others. But in the meantime, practica on not wasting energy, focus on short and clear combinations with your guard/heard well placed. Practice, practice and practice. There's no other way.
Ya saben… you know…
¡A entrenar! Let's train!
– EKF –
entrenandokungfu.com
shaolintao.blogspot.com
youtube.com/channel/UCQlklvhRAhBSpmsIQEdCipw